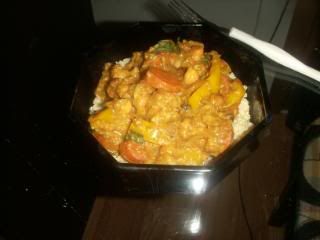 Ingredients:
1 bunch of califlower, cut into florets
1 & 1/2 bell peppers- chopped (I used orange ones)
about 1/2 of an onion- chopped
4-5 carrots, chopped
1 can of chickpeas- drained
1 can of lite coconut milk
1 32 ounce container of vegetable broth
a few leaves of fresh basil, chopped
3 tbs curry seasoning of your choice
1 cup of quiona (dried)
Method:
I think that you can probably use any type of veggies that you want in this. The recipe called for green beans, but I opened them and they felt slimey- I thought that meant they were bad, so I used peppers instead. Put all the veggies and the chickpeas into a large pot and mix them up. Add in the vegetable broth and spices, stir in the coconut milk. Cover and let it simmer on the stove for around 3 hours on high or low. I switched it up, so that it wouldn't boil over. I should probably invest in a pressure cooker. When it is about done (or totally done) most of the broth will have dissolved. Cook the quiona as directed on the box. Serve the curry over quiona. Delicious. I must learn to make naan now :) This is really easy- it just takes a long while to cook.
Makes about 6 Servings. We all ate two :) YUM!
Here is some food porn of other things I have been eating lately- it isn't really cooking, but it will give you something to look at ;)
banana, with tofutti and cocoa powder- with a hot chocolate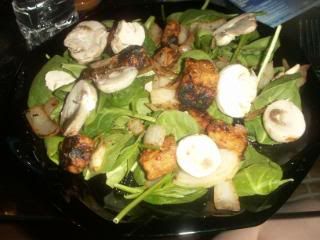 salad with peanut tempeh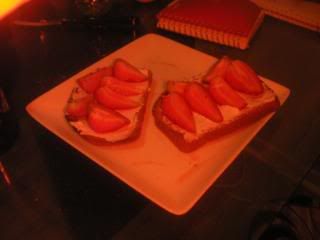 whole grain toast with tofutti and strawbery slices
Enjoy!
today, I made my first attempt ever of making indian food at home- and it actually worked! Kristen had been craving it and today is her one year mark of being back in the wonderful land of Chicago :) so I figured I would give it a go. It turned out really well... I will have to start making it more often